Teaching Methodology
At Lusa Language School we want our students to have the best possible experience while learning Portuguese in Lisbon and that is why we focus on their needs and goals.
Student centric approach
You are our main focus and we'll always put you and your needs first. Our Portuguese classes focus on all four aspects of language learning: reading, writing, oral comprehension and speaking. Lessons are interesting and immersive but also interactive and fun so that you can learn naturally in a relaxed atmosphere.
So what makes our method different?
Error making
Our school has high standards for its Portuguese classes and we want our students to leave Lusa speaking correctly. That is why we encourage our students to speak as much as possible, even if it's with errors. Making errors is one of the most important parts of the learning process, as we learn a lot from our own errors.
Mostly Portuguese
Our teaching method is based on communication. Our classes are mostly taught in Portuguese from day one so that the students start speaking right away. Explanations in other languages are obviously made when students don't understand what the teacher has said.
Daily life experience
Classes won't just teach you the grammar and pronunciation. You'll also learn slang and expressions that are used by Portuguese people on a daily basis. We don't want you to be a foreigner speaking Portuguese, we want you to be one of us!
Materials
Learning a language is about more than just understanding and talking. We aim for our students to learn it all and become experts in Portuguese grammar (even if it may seem hard to learn sometimes). This is why we provide different materials for our students to learn the language.
On the first day of your Portuguese group course, you will receive a grammar book adequate to your level. It has everything you need to know regarding the grammar and it includes explanations as well as exercises so you can practise.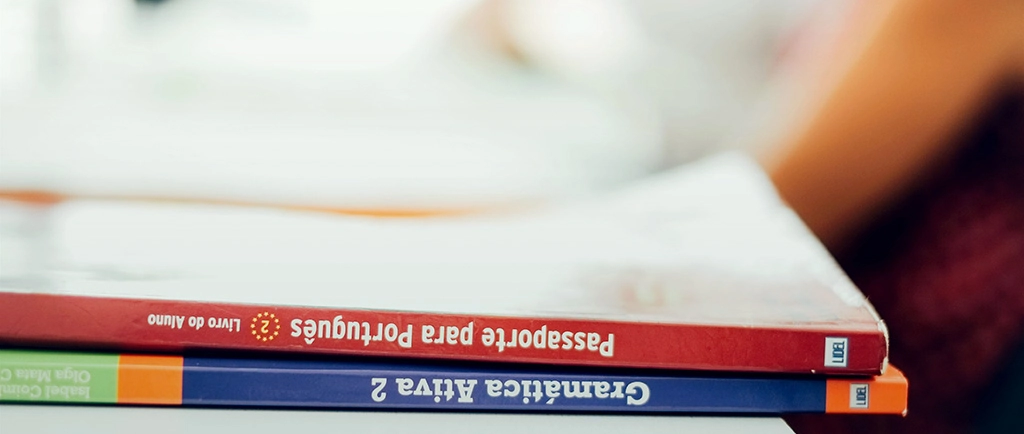 All of our teachers prepare their materials according to the needs of the students, so they can consolidate their knowledge. Using different materials is extremely useful, especially to learn distinct accents, get used to various writing styles or to get to know how the Portuguese speak in formal or informal contexts. In the learning process, teachers can use:
Videos
Audios
Songs
Chronicles
Newspapers
TV programs
As in all languages, it often happens that the grammar and pronunciation you learn isn't necessarily the way that it is spoken by Portuguese people on a daily basis.
We want our students to learn Portuguese, but we also want them to learn "real Portuguese"

, the one that is spoken on the streets by everyone.
Our teachers
As learning can be challenging sometimes, you'll need someone that motivates you to keep going. Our teachers, experts in teaching Portuguese to foreign students, are able to make learning a new language interesting and fun. We carefully select our teachers to make sure they give you the best possible experience.
Professionalism
You are our main interest and we want you to learn as most as possible in your time here. All of our teachers are specialised in teaching Portuguese as a Foreign Language and have years of experience doing so.
Energy
Going to school isn't always seen as the best activity so you need someone that motivates you to get up in the morning or after a long day at work. All our teachers are motivated to teach you all you need to know.
Vocation
Every day we hear at least one of our teachers saying that they love their job. Loving what you do gets you halfway to be successful in it and we are pretty sure they all love to get up in the morning to come to school teach their students.
Our goals
The main goal of our school is to get our students to learn Portuguese in Lisbon and to be able to communicate with natives in an easy and natural way in the shortest possible time. It is important for us that our students feel integrated in Portugal as this is the place they chose to study the language and, many times, to work and live. Besides the language, our teachers will teach you typical expressions, uses and traditions from Lisbon and all other parts of the country. Communication is the most important part of our language courses. We want our students to learn the rules and use them correctly on a daily basis: grammar put into practice.
We want our students to:
Improve their knowledge of the Portuguese language;

Enjoy the process of learning a new language;

Be confident enough to have a conversation with a native;

Get to know the Portuguese people and their values, traditions and culture.
We don't just teach our students the language, we teach them how to be a true Portuguese person!
We offer 6 different learning levels: A1, A2, B1, B2, C1 and C2 according to the CEFR (Common European Framework of Reference for Languages). At the end of each module, the student takes a test to evaluate their capacities. It doesn't happen often, but sometimes teachers advise the students to repeat a level so they can consolidate their knowledge.